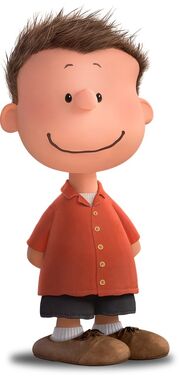 Shermy is one of the original characters from Peanuts.
Trivia
Voiced by "William "Alex" Wunsch".
He's maybe a minor character, but he is a close and a good friend to all of the children in Peanuts strips, series, and also the movie. He is also a good dancer (in a stranger way, since he does know how to do the "mean zombie dance").
Portrayals
In The Peanuts Movie by CyberChaseZoneFilms 2010 he was been portrayed by Mac Foster.
Roles
Portraying as a Zombie role in Final Destination 2 (Parody/coming soon).
Providing the voice role as Rocko Wallaby in Rocko's Modern Life (Parody/coming soon)
Portraying as the victim Jack Chao Lu in Cold Case Toonime (Rotten Seeds Production) in S7E08 entitled Chinatown. He will be shot him to death by his big brother Ling Lu (portrayed by Schroeder after he discovered his big brothers involvement to a dangerous group who thought that they're responsible for his girlfriend, Tam Sung's death (portrayed by Marcie. His ghost along with his girlfriend will be seen by her mother and presumably and supposedly his godfather.

He also directed the S5E07 entitled World's End starring Jessie portraying Audrey Metz as the main victim.
Appearances
Just Dance
Aside from Peanuts and Peanuts Movie, Shermy also appeared in several fields:
He is a P1 dancer of Finesse (Remix) on Just Dance 2019.

Coincidentally, he was the one who appeared in a special teaser where he will be seen painting using a brush and his hand. And telling these line "We're taking it back...old school is where it's at! Find it out soon on the brand new version of Just Dance, coming this June 2018!".
He is also appeared on the parodied music video of "No Excuses" by Meghan Trainor as one of the janitor backup dancers.
Other Skills
He's also the production assistant and the mic holder for Sally Brown's news crew. He is also became an assistant-for-a-day for the self-proclaimed "Queen of Rap", Nicki Minaj. He's also talented when it comes to phantomiming (as it was seen in the movie).
He later on became part and involved of "Rotten Seeds Production" team and he himself became a scriptwriter for the Reali-novel series The Big One, where he also shortly appeared on the said series as a guest character.
As a Pokémon Trainer (Side show)
Unbestknown to anyone, Shermy also got his very own Pokémon, however no one knows when did he catch it.
 
Pokémon On-hand
Pokémon
Pokéball Used
Gender / Type
Known Moves
Characteristics


♂ /

1st: Fly, 2nd: Quick Attack, 3rd: Supersonic, 4th Poison Fang
Jeric is Shermy's new Pokémon friend which is a Crobat. Originally, it was a Golbat before it evolved. Jeric is very consistent when Shermy giving orders from him to attack to an enemy. Jeric also amazes to its trainer's dance moves as it likes it a lot. It is very loyal and helpful to Shermy whenever he needs it. As a Golbat at first, it was a clumsy flyer before (which is unusual to all Golbat's attitude), when Shermy decided to catch it so it can train to fly properly until it was unexpectedly evolved into a Crobat which it quickly learned to fly properly and gained trust and confidence towards him.
Gallery