"That's the West Wing."
―Shirley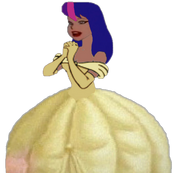 Shirley, the attractive, tourist, violet-haired daughter of the inventor (named Wesley), is a Canadian high-school student of Caucasian ethnicity then she becomes the prisoner of the Beast and the rock guitarist at Nori's Beach Club.
Appearance
Her appearance is shown for the same color of hair as Twilight Sparkle, a golden dress with a simply designed bodice, wrapped off-the-shoulder sleeves, long yellow opera gloves matching her outfit, a gold wide-hemmed floor-length skirt made of 8 triangular panels, and a multiple-layered white petticoat with scalloped edging on the hemline, and yellow high-heeled boots. Her famed Barbara Gordon/Batgirl from Batman: The Animated Series (1992-1995) served as the main inspiration for the character's design.
Bio
Allies 
Enemies
Inspiration
Voice Actors
Gallery