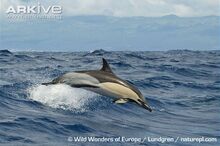 The common dolphin is the name given to two species (and possibly a third) of dolphin making up the genus Delphinus. Prior to the mid-1990s, most taxonomists only recognized one species in this genus, the common dolphin Delphinus delphis. Modern cetologists usually recognize two species — the short-beaked common dolphin, which retains the systematic name Delphinus delphis, and the long-beaked common dolphin Delphinus capensis. The common dolphin is not the dolphin of popular imagination despite its name; that distinction belongs to the bottlenose dolphin due to its widespread use in marine parks and its appearance in the television series Flipper. However, this dolphin was the most frequently represented in the art and literature of ancient Greece and Rome.
Gallery
Books
See Also
Community content is available under
CC-BY-SA
unless otherwise noted.