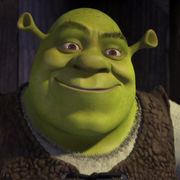 Shrek is an ogre and the protagonist from the "Shrek" franchise.
Bio:
Allies: Donkey (best friend), Fiona (wife), Puss in Boots, King Harold (deceased father-in-law), Queen Lillian (mother-in-law), Dragon
Rivals/Enemies: Lord Farquaad, Fairy Godmother, Prince Charming, Rumpelstiltskin and Fifi
Likes: Donkey, Fiona, being alone in his swamp
Dislikes: People coming into his swamp (sometimes), Donkey's annoying sounds
Roles:
Portrayals:
Quotes:
I live in a swamp. I put up signs! I'm a terrifying ogre! What do I have to do to get a little privacy?!
Attention, all... fairy tale things!
I'm here til Thursday! Try the veal.
[reads a fairy tale] Once upon a time, there was a lovely Princess, but she had an enchantment upon her of a fearful sort. She was locked away in the castle guarded by a terrible fire-breathing dragon. Many brave knights had attempted to free her from the dreadful prison but none prevailed.
Your welcome is officially worn out.
Dead broad off the table!
Wanted: fairytale creatures.
They'll squeeze the jelly from your eyes!
No! I'm an ogre! You know --- "Grab your torch and pitchforks." Doesn't that bother you?
Ogres are like onions. Ogres have layers, onions have layers...you get it? We both have layers.
Actually, that would be a giant. Ogres; they'll make a suit out of your freshly peeled skin.
I'm gonna get you off my land and back to where you came from.
Like that's ever going to happen! What a load of...
Oh, yeah? Well, if I treated you so bad, how come you came back?
This is the part where you run away.
Look, I'm not the one with the problem, okay? It's the world that seems to have a problem with me! People take on look at me and go, "Arggh! Help! Run! A big, stupid, ugly ogre!" They judge me before they even know me. That's why I'm better off alone.
It's on my to-do list, now come on.
Heheheheh! And stay out!
Fiona? Are you all right?
But you are beautiful.
Gallery: