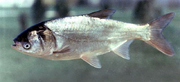 The silver carp (Hypophthalmichthys molitrix) is a species of freshwater cyprinid fish, a variety of Asian carp native to China and eastern Siberia. Although a threatened species in its natural habitat, it has long been cultivated in China. By weight more silver carp are produced worldwide in aquaculture than any other species of fish except for the grass carp. Silver carp are usually farmed in polyculture with other Asian carp, or sometimes with catla or other fish species.
Gallery
Books
Community content is available under
CC-BY-SA
unless otherwise noted.