Silver Fish is a strong, white, grey, and blue diesel, who appears in the 1937 cartoon, Porky's Railroad.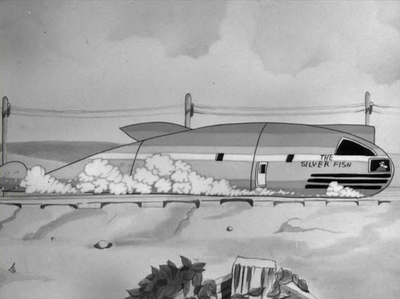 Bio
As Toots comes to a station, Silver Fish arrives to replace Toots, who hears the engineer call him a slow engine on roller skates and falls down. When Silver Fish and Toots race, Toots manages to win the race and get replaced with Silver Fish dragging him. Silver Fish is now one of the characters in Casey Jr. & Friends.
Relationship
Train Bult: Diesel Engine
Appearance: Porky's Railroad (1937)
Gender: Male
Agliment: Half Bad and Half Good
Allies: Casey Jr. (enemy), Toots (nemesis) Tillie (enemy), Tootle, Montana, Emma (enemy), Pufle, Ivor, Jebediah, Georgia, Pete, Farnsworth, Alfred, Melissa, Tom Jerry, Blue, Greendale Rocket, Johnny (cousin), Doc, Huey, Rasmus, Jason, Sir Reginald, Katy Caboose, Alan, Piper, Tracy, Rusty (father), Humphrey, Rodrick, Minerva, Shelbert, Mary, Streamer, Calley, Bonnie, Sasha, Wartime, Sir Norramby
Enemies: Cerberus
Gallery
Community content is available under
CC-BY-SA
unless otherwise noted.