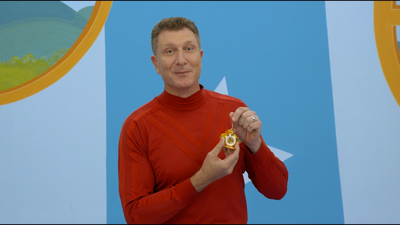 Simon Pryce is the red Wiggle who replaced Murray in 2013. Though he was originally supposed to replace Greg or Sam in 2012 and be the new yellow Wiggle.
From 2013-2016, he and Lachy were the two main vocalists of the current generation.  Following Dance Dance!, he began to sing less often and began playing various guitars in the videos and television series, as well as the drums on a few occasions and the tambourine.  He also plays the bass guitar at concerts, where he still does a considerable amount of lead singing compared to the albums and videos. 
Character Information
Unlike Murray, Simon does not play guitar very often but usually instead lead sings in new Wiggles songs. He sings in a baritone and operatic voice. His favorite game to play is Simon Says.
Gallery
Trivia
Simon sings opera much like Sam Moran and Paul Paddick. In fact, they all played

Professor Singalottasonga

.
He was an understudy for Murray before he was officially a Wiggle.
He is afraid of cold water.
Unlike Emma and Lachy, Simon has never done a television show or released a DVD and album of his own.
He drove the Big Red Car in 

Fly Through The Sky

.
He is best known for his very deep bass baritone voice.
His appearances in the Stephen Squirrelsky and Friends' Movie Spoof Travels are The Forest Book 2 (TrainBoy43's Style), Nikki's Adventures of Sing Along Songs Episode 10, Madagascar (FamousImagination50's Style), Sleeping Beauty (Justin Quintanilla's Style), Aurorastasia, Despicable Me (Justin Quintanilla's Style), We're Back!: A Jungle Animal's Story, Jimmynocchio, and The Wizard of Oz (Uranimated18's Style) and will even be in more movie spoof travels.
The image gallery for Simon Wiggle may be viewed here.