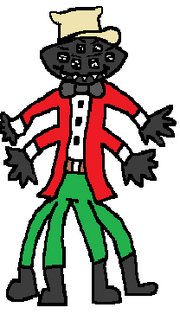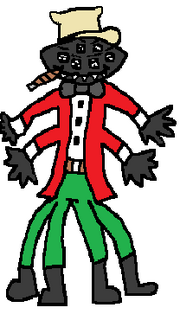 Slade Spider is a spider villain, who wears a pale hat, a black bowtie, a red coat, a white-shirt underneath, green trousers, and has four arms and four legs, and carries a stogie in his mouth.
Gallery
Gallery (stogie)
Disguises
Trivia
He often carries a stogie in his mouth and will always carry it in his mouth during spoof travels, episodes, specials, and other stuff since he's got it in Animal Story 2 and Here Comes Winnie the Pooh.
He carries four lightsabers and four pistol guns.
His appearances in the Stephen Squirrelsky and Friends' Movie Spoof Travels are Animal Story 2 (Stephen Druschke's Style) where he tries to kidnap Ellie, Courage, Gus, and Robin, but fails, then plans to get them from trying to deliver The Easter Eggs in Here Comes Winnie the Pooh with Lionel, Poodles Galore, You-Reek Skunk, Teresa, Trevor Sr, Trevor Jr, Jackal O'Tucksy, Poisonous Snake, Cruella, Jasper, Horace, The Greaser Dogs, The Greasers, The Rowdyruff Boys, Red Guy, Mandark, Manfred, Springbaky, Chimpy, Feisty Badger, Red Deer, Dicki Yak, and The Cyberchase Villains helping, only to miss, and will hopefully get Stephen, and his friends in more spoof travels.
Community content is available under
CC-BY-SA
unless otherwise noted.