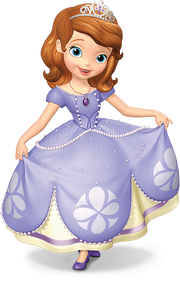 Princess Sofia (born October 6, 2005) is the titular protagonist of the Disney Junior animated series of the same name.
Sofia is a little girl with a commoner's background until her mother marries the King of Enchancia and she becomes royalty. Sofia learns that looking like a princess is not all that hard, but behaving like one must come from the heart.
She is governor's daughter.
She is a who
She is a little girl
She is a tinker fairy
She is an orphan who runs away from Aunt Figg
She is a lost girl and Wendy's daughter
Sofia played Bonnie Anderson in Critter Story 3
She is Woody and the gang's current owner
Sofia played Shantae in Sofia the First (Shantae), 

Sofia the First: Princess Amber's Revenge

, 

Sofia the First and the Pirate's Curse

,

Sofia the First: Half-Genie Hero

and

Sofia the First and the Seven Sirens
She is a half-genie
Portrayals
Gallery
Main Article: Sofia the First/Gallery
Sofia's Animal Counterparts
Sofia as the Hippopotamus
Sofia as the Bear
Sofia as the Ape