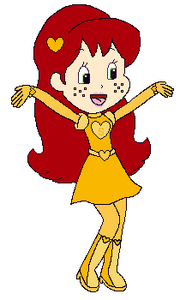 Soleil Spacebot is one the main characters in Nelvana's 1986 Animated Television Series, The Spacebots. She is the eldest of three sisters and has a crush on Sam Spacebot. She is voiced by Jen Tolley. She is Yellow Kirby's cousin. She has the ability to fly (she can carry others while flying), she is capable of surviving in space and levitation. She is also Orbit's best friend. Her best friend is Lydia Deetz.
Soleil played as Strawberry Shortcake in

Soleil Spacebot (Strawberry Shortcake)
Soleil played as Ariel in

The Little Yellow Spacebot
Soleil played as Cinderella in

Soleilrella
Soleil played as Linda Gunderson in 

Rio (LooneyNelvanaTunesRockz Style)

and

Rio 2 (LooneyNelvanaTunesRockz Style)
Soleil played as Mina/Sailor Venus in Sailor Tomira,

Sailor Tomira (VIZ)

&

Sailor Tomira Crystal
Soleil played as Dorothy Gale in

The Wizard of Oz (LooneyNelvanaTunesRockz Style)
Specialty:
Voice Actors:
Jen Tolley - English
Rica Matsumoto - Japanese
Cristina Hernandez - Latin Spanish
Marta Barbara - European Spanish

Lizette Pålsson

- Swedish
Rama Messinger - Hebrew

Magali Barney

- European French
Emanuela Pacotto - Italian

Agusta Eva Erlendsdóttir

- Icelandic
Annevig Schelde Ebbe - Danish
Caroline Combrinck - German
Ecaterina Nazare - Romanian

Ülle Toming

- Estonian
Portrayals:
Gallery:
Quotes:
"Gosh!"
"They don't call me Miss Sunshine for nothing!"
"I am so lucky to protect my sisters in no time!"