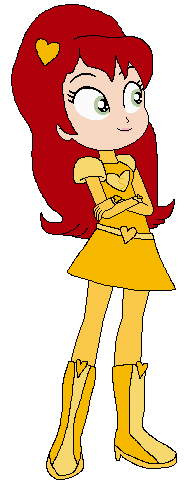 Soleil Spacebot is a character of the television show, The Spacebots. She appears in Rosemary Hills, making her debut in Cosmic History.
Voice Actors:
Jen Tolley - English
Rica Matsumoto - Japanese
Cristina Hernandez - Latin Spanish
Marta Barbara - European Spanish

Lizette Pålsson

 - Swedish
Rama Messinger - Hebrew

Magali Barney

 - European French
Emanuela Pacotto - Italian

Agusta Eva Erlendsdóttir

 - Icelandic

Annevig Schelde Ebbe

 - Danish
Ecaterina Nazare - Romanian
Caroline Combrinck - German

Yuliya Mayarchuk

- Ukrainian

Ülle Toming

- Estonian
Appearance:
Slender, 19 years old, light yellow-fair skin, orange freckles, pink lips, long red hair, green eyes.
Personality:
Beautiful, cheerful, sunny, smart, sweet, lovely and kind.
Quotes:
Cosmic History:
Gosh! (her catchphrase)
Golly! (her second catchphrase)
Milly's Christmas Stories:
I'm sure Milly will think of something. (she talks to Sam.)
I knew Milly wouldn't let us down. (she thinks Milly is doing a good job.)
Portrayals:
Gallery: