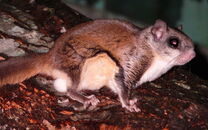 Flying squirrels (Glaucomys volans) are easily distinguished by the "gliding membrane", a flap of loose skin that extends from wrist to ankle. The loose skin along the side of the body is supported by cartilaginous spurs on the wrists and ankles. The soft fur on the back and tail is grey with varying amounts of grey tinge; the belly is white. The tail is dorso-ventrally flattened. The eyes are very large, probably related to the nocturnal habits and the visual requirements of gliding. Total length is 21.1 to 25.7 cm and tail length is 7.9 to 12 cm.
Roles
Gallery
Books
See Also
Community content is available under
CC-BY-SA
unless otherwise noted.