Jimmyandfriends's movie-spoofs of "Space Jam"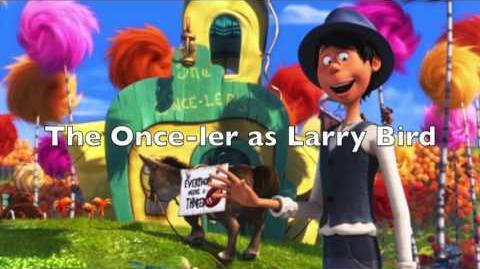 Cast
Michael Jordan - Gru (Despicable Me)
Stan Podolak - Kristoff (Frozen)
Juanita Jordan - Lucy Wilde (Despicable Me 2)
Jeffery Jordan - Hiro Hamada (Big Hero 6)
Marcus Jordan - Sherman (Mr. Peabody & Sherman)
Jasmine Jordan - Agnes Gru (Despicable Me)
Jordan Housekeeper - Cass Hamada (Big Hero 6)
Bill Murray - Hercules
Larry Bird - The Once-ler (The Lorax)
Commisioner - Grunkle Stan (Gravity Falls)
Bugs Bunny - Surly (The Nut Job)
Daffy Duck - Squidward Tentacles (SpongeBob SquarePants)
Lola Bunny - Andie (The Nut Job)
Sylvester - Alex the Lion (Madagascar)
Porky Pig - Dipper Pines (Gravity Falls)
Tweety Bird - Skully (Jake and the Neverland Pirates)
Road Runner - Theo (Turbo)
Wile E. Coyote - Carl the Evil Cockroach Wizard (Yin Yang Yo!)
Granny - Granny Puckett (Hoodwinked!)
Elmer Fudd - Denzel Crocker (The Fairly OddParents)
Yosemite Sam - Aloysius O'Hare (The Lorax)
Tazmanian Devil - Pumbaa (The Lion King)
Pepé Le Pew - Thomas O'Malley (The Aristocats)
Marvin the Martian - Gallaxhar (Monsters vs. Aliens)
Foghorn Leghorn - Baloo (The Jungle Book)
Sniffles - Roo (Winnie the Pooh)
Hubie and Bertie - Remy and Emile (Ratatouille)
Toro the Bull - Eduardo (Foster's Home for Imaginary Friends)
Mr. Swackhammer - Dave (Penguins of Madagascar (2014))
Pound (Orange Nerdluck) - Gumball Watterson (The Amazing World of Gumball)
Bang (Green Nerdluck) - Young Simba (The Lion King)
Nawt (Red Nerdluck) - E.B. (Hop)
Bupkus (Purple Nerdluck) - Robin the Frog (Muppets)
Blanko (Blue Nerdluck) - Flounder (The Little Mermaid)
Pound (Orange Monstar) - Cat R. Waul (An American Tail: Fievel Goes West)
Bang (Green Monstar) - Scar (The Lion King)
Nawt (Red Monstar) - Yuck (Yin Yang Yo!)
Bupkus (Purple Monstar) - Grundel Toad (Thumbelina)
Blanko (Blue Monstar) - Bruce (Finding Nemo)
Community content is available under
CC-BY-SA
unless otherwise noted.