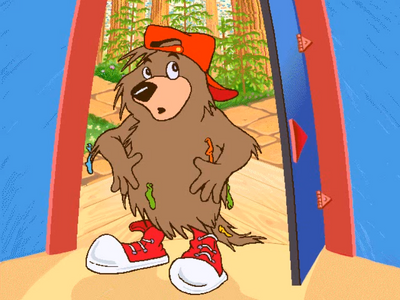 Appearances
1990s
Spike is a porcupine who appears in Reader Rabbit Kindergarten, Reader Rabbit 1st Grade and Reader Rabbit Thinking Adventures. He wears a red cap and tennis shoes. He is the antagonist of Kindergarten and 1st Grade, who tries to ruin everything for his own selfish vendetta. He simply doesn't like others because no one can give such a spiny porcupine a hug. He tries hard to be a good helper in Thinking Adventures.
2000s
In the DVD movies, he wears a pair of blue workshop trousers with a rope belt and is not as spiteful to others anymore, but feels out of his depth, until his friends give him encouragement. In the second Leapfrog e-book High Flying Act he works as a prize giver for a spinning wheel booth.
Alternate Names
Spike le Porc-épic (French)
Gallery
Also Known For Stephen Squirrelsky
He is also one of Stephen and Andrew's friends.
Trivia
His appearances in the Stephen Squirrelsky and Friends' Movie Spoof Travels are AiAi the Monkey's Grand Adventure: The Search for Tails, A Cartoon Character's Life, Nikki's Adventures of Sing Along Songs Episode 7, Here Comes Winnie the Pooh, Animals, Inc, Simba 2, Miss Bianca and the Bernard 2: Fievel's Adventure, FernGully: The Last Rainforest, A Pooh in Central Park, Bubblesrella 2: Dreams Come True, The Brave Little Piglet, Kung Fu Owen, Nikki's Adventures of Sing Along Songs Episode 8, The Thomas O'Malley Movie, Kermit Returns, Fievel the Red Nosed Mouse and The Island of Misfits, and Nikki's Adventures of Sing Along Songs Episode 9, Cloudy with a Chance of Meatballs, Finding Alvin, Animated Tale, The Forest Book 2, Nikki's Adventures of Sing Along Songs Episode 10, Madagascar, and Sleeping Beauty and will even be in more movie spoof travels.
Community content is available under
CC-BY-SA
unless otherwise noted.