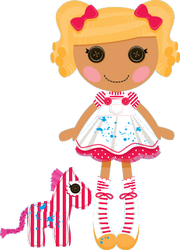 Spot Splatter Splash is the most artistic resident of Lalaloopsy Land. She's a virtuoso with a paint brush and palette and she never hesitates to express herself through her art. Though a little strange compared to her friends, she never fails to make her friends smile with her silly masterpieces. Spot is the older sister of little Scribbles Splash. Her name is based off of her messy methods of creating art - a splash of color here, a splatter of paint there!
About Spot
Appearance
Spots Pattern Spot Splatter Splash has light brown skin and pink-peach cheeks. Her eyes are the common black buttons. Spot's hair is yellow-orange in color and seems about chest length, worn up in pigtails held with red bows. Her bangs are the common wrap type.
Spot wears very colorful attire, consisting of a red and white striped shirt with small puff sleeves and collar, underneath a white overall dress with red buttons at each strap and a triangle pocket in the center. A single red stripe goes around the ruffles at the hem of her dress, along with a red tulle layer with tiny white polkadots. On her dress are many light blue paint blotches. Spot also has on knee length white and red socks and matching boots with yellow sole and toe.
Pet
Spot's pet is a zebra who loves to play and paint as much as Spot does! It is white with red stripes with fuchsia hair and a tail. It has white rings over its black button eye and spots of blue paint on its body.
Home
Main article: Spot's house Main article: Spot's art studio
Trivia
October 25th is International Artist Day & Picasso's birthday.
Gallery
Community content is available under
CC-BY-SA
unless otherwise noted.