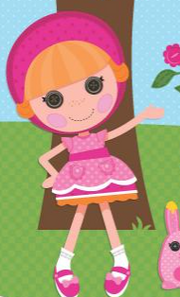 Sprouts Sunshine is one of Lalaloopsy Land's biggest egg hunting enthusiasts. She's bright and cheery, and she loves every color in the rainbow. She likes to paint eggs, eat chocolate, and play hide and seek. Her name is based off of flowers and how they sprout in the spring, as well as the abundance of beautiful sunshine that helps them grow!
About Sprouts
Appearance
Sprouts Sunshine is a fair skinned girl with pale pink cheeks and small black button eyes. She has orange hair with straight cut bangs and really short hair that just flips on the edges on both sides of her head. She wears a magenta bonnet on her head. Sprouts wears a light pink dress with a fuchsia band around her waist, and three layers of skirt, each with white ruffled lining. The middle layer is magenta, while the bottom one is orange. Sprouts also wears magenta Mary Janes with light pink bows on the toe, and plain white socks.
Pet
Sprouts Sunshine's pet is a small rabbit. It is pink and has a magenta tummy and mouth, black button eyes, and its right ear has a big yellow spot of paint on the top.
Trivia
Gallery