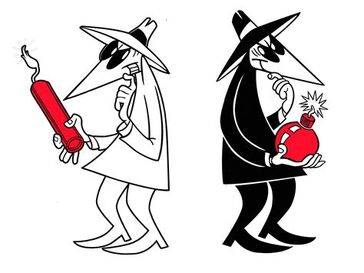 Spy vs. Spy characters Wearing wide-brimmed hats and dressed in overcoats, both Spies have long pointed faces. They are identical except for one being entirely in white and one entirely in black. The Spies were modeled after El Hombre Siniestro ("The Sinister Man"), a character Prohías created in the Cuban magazine Bohemia in 1956. Like the Spies, he wore a wide-brimmed hat and overcoat and had a long pointed nose. Prohías described the character as someone who "thought nothing of chopping the tails off of dogs, or even the legs off of little girls" and stated he was "born out of the national psychosis of the Cuban people."[3] 'El Hombre Siniestro bears strong resemblance to the Spies—although, instead of fighting against a set rival, he simply does horrible things to anyone he can find.
Community content is available under
CC-BY-SA
unless otherwise noted.