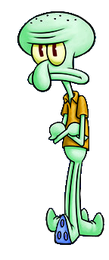 Squidward Tentacles is a squid from SpongeBob SquarePants.
Bio
He is a Ordinary Guy
Squidward played Luca in Animated Tale
He is a Octopus Blue
He is a bird
He is a rabbit
Squidward played Lampie in Ryan's Ogre
He is a Kuei
He is a priest
He is a Sailor Scout
Heis a doorknob
He is a donkey.
He is a Red Engine (Not Pink or Not Blue)
Squidward played Manny in Toon Age (Series)
He is a Mammoth
He is a clock
He is a grumpy dwarf
Squidward played Gaston in Beauty and the Koala
He is Jafar's henchman
He is a crocodile
He is a duck
Squidward played Sebastian the Crab in The Little Mer-Winx Princess Trilogy
He is a Crab
He is a vacuum
He is a blue monster
He is a space ranger
He is a video game character
he is a raptor
He's the Grinch who hates Christmas
Portrayals:
Gallery:
Community content is available under
CC-BY-SA
unless otherwise noted.