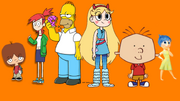 Join Stanley Griff, Joy, Mac, Frankie, Homer Simpson, Star Butterfly and the Powerpuff Girls for amazing animal adventures and help defeat bad guys and villains and escape danger.
Members/ Agents/ Minions
Villains
Terrence (Foster's Home For Imaginary Friends)
Species List
Episodes
Season 1
Really Wild Wildlife
Can't Trust a Zebra Because Of His Stripes
Lyin' With Lions
Shark Attack
Finding Lisa
Prey Are Friends, Not Food
Tiger Attack
Fun Time For Penguins
Rainy Rainforest
It Never Rains In Africa
Yellowstone's  Country
Kruger's National Park
Necked Tower
Meerkat Party
The Toothy Crocodile
An Elephant Hardly Ever Forgets
Beware Of The Grizzly Bear
Sleepy Sloth
Homer the T-rex
Speed off, You Lazy Cheetah
Downtown Austrailia
Just Keep Swimming
Rhino Charge!!!!!
Stanley's Smarter Than a Gorilla
Is A Wolf In Charge?
Moose on the Loose
Riverpotamus
Mama Roo's Pouch is for Babies
What is a Leopard Doing In Snow?
Being Smarter that a Fox
Eagle Eysight
Handy Octopus
Flamingo Ballet
Dumbest Donkey
Pandas May Be Cute, but In Danger
We're En-Dangerd!!!
Racing With Ostriches
The Noisy Bird
Spinging Sprinboks
Friend Of A Fish
The Leopard Sleeps Tonight
Mountain Livers
Warty Warthogs
Nocturnal, Do You Mean No Sleep?
Red Pandas Aren't Bears?
Adapted to the Arctic
Running Roadrunner
Speaking with Dolphins
Polar Coated Bear
Sunda's Island
Lake Eirie
Congo's Forest in Trouble
Season 2
The Real Tasmanian Devil
Season 3
Season 4
Season 5
Season 6
Voice Actors
Stanley Griff- Jessica D. Stone
Mac Foster- Sean Marquette
Frankie Foster- Grey DeLisle
Homer Simpson- Dan Castella
Marge Simpson- Julie Kraniver
Star Butterfly- Eden Sher
Marco Diaz- Adam Mcarthur
Buttercup- Elizabeth Daily
Adam Lyon- Nikka Futterman
Community content is available under
CC-BY-SA
unless otherwise noted.