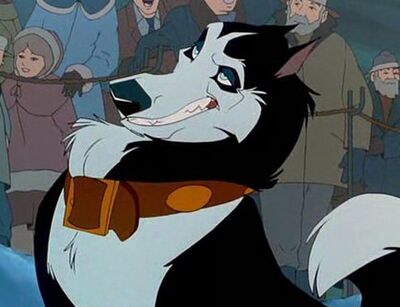 Steele is an Alaskan Malamute/Siberian Husky mix who is Balto's rival and the main antagonist in the animated film, Balto.
Steele plays Palpatine/Darth Sidious in

Animation Star Wars
He is a sith lord
He is a vacuum cleaner
He is a fox
He is a tiger
He is a lion
Steele plays Scud in

Cartoon Story (Davidchannel Version)
He is a Dog
Steele plays Troy in Animated Party (Sausage Party)
He is a sausage who loves picking on Barry, and is a potential fatality of the Great Beyond.
He is a evil lion
Steele plays Hades in Baltcules
He is the Greek god of the underworld
He is a sorcerer
Steele plays Gaston in

Beauty and The Echidna

and Beauty and the Genie
He is an arrogant hunter
Steele plays Shan-Yu In Jenlan
He is the leader of the Huns
He is a Evil Rat
Steele plays Captain Hook in Humphrey Pan
He is a pirate
He is Tabitha's partner and co-leader of the thugs
He is a prince
He is a Moray eel
He is a cursed pirate with the head of a Hammerhead shark
.Steele plays Tai Lung in Kung Fu Wolf
He is a Snow leopard
He is a man from the Northern Water Tribe
He is a blue fox
He is a Kryptonian computer and villain
He is a who and the mayor of Who-Ville
He is a Sith lord
He is a prince
He is a hunting dog
Steele Played Clavius In

The Swan Dog 2: Escape From Castle Mountain
He is The Magic Shaper
He is Itchy and Charlie's Arch Nemesis
Steele played Shan Yu's Bodyguard in Kiara (Mulan) and Aleulan
He is Shan yu's Bodyguard
Steele played Honest John Worthington Foulfellow in Dumbo (Pinocchio)
He is a fox
Steele Played Rasputin in Vixeystasia
He is an evil monk
Steele Played Professor Ratigan in

The Great ilovecakeAJ Detective
He is a weasel
He is the leader of Hydra.
He's a Creature Ninja of Outword
He's a leader of the Decepticons
Portrayals
Simbalto - Steele played by Shere Khan
Todto - Steele Played by Buster
Dannto - Steele played by Cat R Waul
Ericto - Steele played by Clayton
Romeoto - Steele played by Joe the Pilot Fish
Flikto Steele Played By Hopper
Bodito - Steele Played By Linnux
Dariento He is Played by

Ashto (170Movies Style)

He is Played by James (Pokemon)
In Simonto He is Played by Uncle Harry
In Basilto (Chris1703 Style)He is Played by Ratigan
Shaggy (Aka Balto)

he is Played by Ben (scooby doo and ghost)
Gallery: