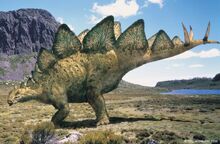 Stegosaurus
is a genus of armored stegosaurid dinosaur. They lived during the Late Jurassic period (Kimmeridgian to early Tithonian), some 155 to 150 million years ago in what is now westernNorth America. In 2006, a specimen of 
Stegosaurus
 was announced from Portugal, showing that they were present in Europe, as well. Due to its distinctive tail spikes and plates, 
Stegosaurus
 is one of the most recognizable dinosaurs. At least three species have been identified in the upper Morrison Formation and are known from the remains of about 80 individuals.
Roles
Portrayals
Gallery
Books
See Also
Walking With Dinosaurs: A Natural History
Community content is available under
CC-BY-SA
unless otherwise noted.