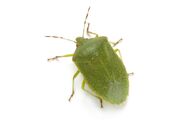 Stink bugs excrete offensive smelling liquid from their thorax glands that are placed in between the first and second pair of legs. When they are molested or attacked by predators, they produce this liquid defensively in order to put off potential threat to their lives. Usually, they are not considered to be pests for they do not render significant loss to plants; however, when they make a larger group, they may become considerable pests.
Gallery
Community content is available under
CC-BY-SA
unless otherwise noted.