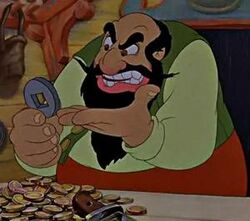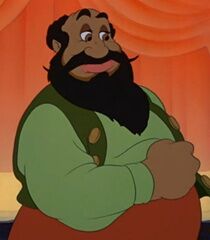 He played Farouk, the Apple Seller in Anarioladdin
Voice Actors:
Vangjel Toce - Albanian (2002)
Romir Zalla​ - Albanian (????)
Yousef Dāwud - Arabic
Almirante Henrique Foréis Domingues - Brazilian Portuguese (1940/old dub)
Castro Gonzaga - Brazilian Portiguese (1966/new dub)
Georgi Todorov - Bulgarian
Zvonimir Zoričić - Croatian
Ota Jirák​ - Czech
Gunnar Strømvad​ - Danish (1940/old dub)
Poul Bundgaard - Danish (1978/new old)
Louis van Gasteren - Dutch (1949/old dub)
Jan Anne Drenth - Dutch (1995/new dub)
Charles Judels​ - English
Markku Riikonen​ - Finnish
Fernand Rauzena - French (1946/old dub)
Pierre Garin - French (1975/new dub)
Georg Thomalla - German (1951/old dub)
Fritz Tillmann​ - German (1973/new dub)
Dínos Soútis - Greek
Shimon Cohen - Hebrew
Raksányi Gellért - Hungarian (1962/old dub)
Rajhona Ádám​ - Hungarian (1999 & 2000/new dub)
Ólafur Darri Ólafsson​ - Icelandic
Mario Besesti​ - Italian
Nakamura Tetsu - Japanese (1958/old dub)
Ōtsuka Chikao - Japanese (1983/old dub) (dub in use)
Endō Seiji - Japanese (1986/new dub)
Han Sang-Deok - Korean
Rafael Salvatore​ - Latin Spanish
Chén Guāng-Píng - Mandarin Chinese
Ivar Nørve - Norwegian
Aleksander Fogiel - Polish
Carlos Sebastião - European Portuguese
Zhāng Yáo-Hán - Putonghua TV
Paul Talașman - Romanian
Sergey Vorob'yov - Russian
Benkt-Åke Benktsson - Swedish (1941/old dub)
Stephan Karlsén - Swedish (1995/new dub)
Kritsana Saringkhannon - Thai
​Faruk Akgören - Turkish
Portrayals
Gallery
Trivia
His appearances in the Stephen Squirrelsky and Friends' Movie Spoof Travels are Despicable Me (Justin Quintanilla's Style) where he, The Wicked Coachman's armed guards, Honest John, Gideon, The Wicked Coachman, and The Retched Rodents try to get Stephen and the gang, but miss, and will even be in more movie spoof travels.
Community content is available under
CC-BY-SA
unless otherwise noted.