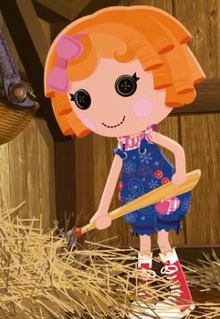 Sunny Side Up is the hardest working farmer in all of Lalaloopsy Land. She loves waking up at dawn, caring for animals, and eating HUGE breakfasts! Sunny is the twin sister of Berry Jars 'N' Jam. Her name is based off of eggs, laid by her pet chick of course, that her sister serves sunny side up!
About Sunny
Appearance
As stated, Sunny looks to be a tomboy as she is normally depicted in shorts or pants, or boyish attire.
Sunny has fair skin and carnation pink cheeks, along with the normal black button eyes. Her hair is neon orange with curled bangs and almost neck length hair worn down. She wears a rose pink bow attached to a headband on the right side of her bangs. Sunny wears an indigo pair of short overalls over a hot pink and white checkerboard patterned shirt, along with tall scarlet red tennis shoe-styled boots.
Pet
She has a sunshine yellow pet chick with pink wings, which have a flower pattern on them, tangerine orange feet, and a tiny beak. It has a white patch on its eye.
Home
Main article: Sunny and Berry's farm
Trivia
October 12th is Old Farmers Day.
Sunny wears a pink headband which is the same color as Berry's hair and Berry wears orange bows which are the same color as Sunny's hair.
Gallery