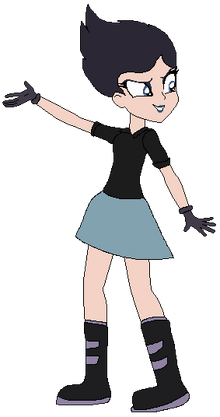 Super Loud-Sharon is the secondary antagonist of Teletoon's The Rainbow Friends and is the spoiled niece of Armor Heartless.
At first, she appeared to be only visiting her uncle at his castle, but as she appeared in more and more episodes, it seems that her visit is extensive. This living arrangement was greeted with much displeasure by Armor Heartless' lackey Sharpy, since he is the one who has to deal with her most of the time.
Perhaps in an attempt to get more free time for himself, Armor Heartless allowed Sharpy to become Loud Sharon's lowly assistant.
Voice Actors:
Debi Derryberry - English
Appearance:
Personality:
Witchy, bratty, loud.
Gallery: