The owner of this page is Mr. Crabmeat. Mr. Crabmeat decides to allow editing in the following section(s): Episodes. However, all other sections of the page requires permission from the owner by contacting Mr. Crabmeat on the message wall for permission.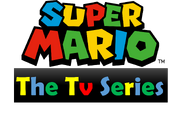 Super Mario: The TV series is a 3D animated sitcom based on the Mario series, it permires in ABC in March 2020.
Episodes
Season 1
A Normal Mario day

The L does not stand for loser
Season 2
Season 3
Season 4
Season 5
Season 6
Season 7
Season 8
Season 9
Season 10
Season 11
Season 12
Season 13
Season 14
Spin-offs
The show received 4 spin-off shows, this included
Mario Party: A Dicey Adventure

Mario Kart: Racing Championship

Mario All-Stars Sports

Donkey Kong Country: The Second Chapter

Yoshi's Island
Reception
The show received very positive reviews by the critics, the critics praised the characters, voice acting, humor,and animation.
Characters
Main Characters
Major Characters
Recurring Characters
Minor Characters
1 Time Appearance