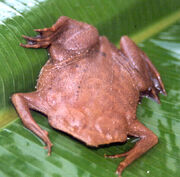 The Surinam toad or star-fingered toad (Pipa pipa) is a species of frog in the family Pipidae found in Bolivia, Brazil, Colombia, Ecuador, French Guiana, Guyana, Peru, Suriname, Trinidad and Tobago, and Venezuela. In Spanish it is called aparo, rana comun de celdillas, rana tablacha, sapo chinelo, sapo chola, or sapo de celdas. In Portuguese, it is known as sapo pipa due to its shape, as "pipa" means kite. Its natural habitats are subtropical or tropical moist lowland forests, subtropical or tropical swamps, swamps, freshwater marshes, and intermittent freshwater marshes. It is threatened by habitat loss.
Gallery
Community content is available under
CC-BY-SA
unless otherwise noted.