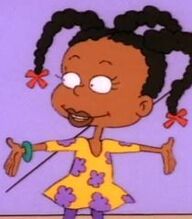 Susie Carmichael is a character from Rugrats.
Susie Carmichael Played Cheer Bear in

Rugrats/The Care Bears Movie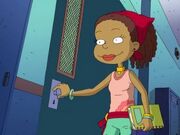 S4E21 entitled "Torn", Emma Stone's (portrayed by Angelica Pickles) professor which she was the one who lectured Emma about the classification of women in their profession, including Det. Rush in her lectures as she was the only woman in homicide team which solves Cold Cases (but she clarified to Emma that she was not the only woman in homicide team, there's Lenny, Josie, and later Kat Miller) . She was also be able to help the detectives in their investigation to Francis's case after she had an honor to interview Alice Harris (portrayed by Suki) to get some clues and verdicts before she was gone the past week.
Voice Actors:
Cree Summer - English
Gallery: