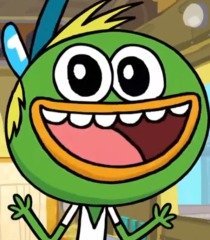 SwaySway
is a wild and quazy guy who loves to shake his tail feathers and deliver bread with his best bud Buhdeuce. He comes from a long line of BREADWINNERS, and now he's proud to carry on the family tradition of getting bread UP IN YO BEAK! He doesn't always use the best judgment, but he's an expert when it comes to flying the rocket van – and crashing it! Even when the rocket van is busted up and their bread is totally toast, he never gives up!
Friends
Enemies
Gallery
Relatives
Best Friends - Buhdeuce and Sharko
Roles
He played Timon in The Oggy King
He played Cuphead in Duckhead
He played Crash in Toon Age (LydiaPrower8 Version) series
Community content is available under
CC-BY-SA
unless otherwise noted.