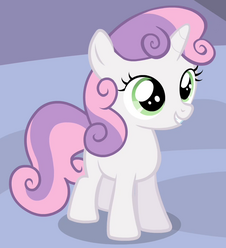 Sweetie Belle
(born February 2, 2003) is a school-age unicorn filly and
Rarity
's youngest sister. She makes her first major appearance in the episode Call of the Cutie. Sweetie Belle and her friends,
Apple Bloom
and
Scootaloo
, call themselves the Cutie Mark Crusaders.
she is a singing girl on a tricycle
she is a mermaid girl.
She is a girl
She is a Pink Girl with Red Glasses
She is a ghost
She is a lawyer.
She is a robot.
She is a sidekick
Gallery
Community content is available under
CC-BY-SA
unless otherwise noted.