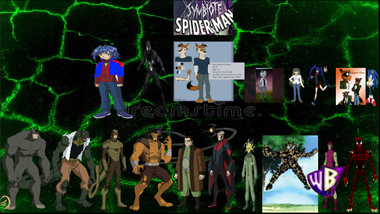 Symbiote Spider-Man
is a 2009 Animated TV Series Based on the Comic of Symbiote Spider-Man Starring the Voice of Johnny Yong Bosch as the Voice of Tyler Klause/Symbiote Spider-Man It Aired on Kids WB the Background music for TMNT 2003 Code Lyoko and Martin Mystery is Used for Six Seasons.
Characters
Supporting Characters
Robotboy
Data 7
Blake Belladonna
Spyro the Dragon
Professor Caninestien
The Winx
B-Bop A Luna
2t Fru-T
Do-Wah Diddy
Sly Cooper
Carmelita Fox
Bodi
Darma
Danny Phantom
Weiss Schnee
Sora
Tormund
Roberta
Unknown Ranger
Villains
Guest Stars
List the characters who appear in each episodes and what episodes are the characters in.
Locations
Professor Windlenut's Museum
Genre
Seasons
Season 1: Tyler Finds the Symbiote at Windlenut's Museum and Bonds with It He Becomes Symbiote Spider-Man the Dark Superhero of Acmetropolis and Formed a Strong Group with His Friends Especially his girlfriend Rina Toin Together they Protect Acmetropolis from the Sinister Six, Carnage, Kraven, Mysterio, Venom, Lizard, Swarm, Green Goblin, and the new Villan Psycho Goblin.
Season 2: Ben Tennyson tells Tyler and Adagio about he's joining the Justice League. 
Season 3: Tyler His Three Siblings and Sonic Discover the Secrets of the Windlenut Museum as they Investigate More about professor windlenut and fight the villians
Season 4: Red is Magra's son who is revealed to be the Unknown Ranger 
Season 5: The Villians Prepare to Take Over Acmetropolis So Tyler and His Siblings with Benjamin and Sonic will do evreything to defeat the villans find the ghosts in the museum and save acmetropolis as long as tyler controls his symbiote powers how hard can it be?
Season 6: The Final Season Tyler breaks into the Crystal Dimension and Destroy's The Sinister Six and a Dark Secret is Revealed Adagio's Former Brother is Trey Meanwhile The Winx and Blake Kiss Tyler in the Bathroom having sex.
Season 1 Episodes
Season 2 Episodes
Season 3 Episodes
Season 4 Episodes
Season 5 Episodes
Season 6 Episodes
Theme Song
Gurenge (Opening for Season 1)
Ambiguous (Opening for Season 2)
When They Cry (Opening for Season 3)
Deal With The Devil (Opening for Season 4)
Magia (Opening for Season 5)
Desir (Opening for Season 6)
Soundtrack
Voice Cast
Guest Stars
List the characters who appear in each one episode and what episode is the character in.
Promos
Community content is available under
CC-BY-SA
unless otherwise noted.