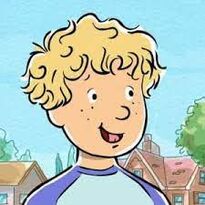 Tyrone Daniel "T.D." Kennelly is a main character in Martha Speaks. He is Helen's best human friend. He is a smart and logical kid but has a lot of trouble in school (mainly because he is distracted, bored and does not turn in his homework). He is kind to Martha and all his friends and is willing to help them in any way, however, he can get mean, defensive and offensive when arguing with Helen and Alice (which he does sometimes). Despite that, he loves Martha, Helen, Alice, Truman and all his friends equally as well as his clutter and supernatural knowledge. He gives most things 110%.
History
He has known Helen since they were babies and has also known Alice for a long time as he went to her second birthday party. One time, in preschool, he and Helen were outgrowing naps and so chatted together during nap time, giving her the codename "Nap Time" in his secret code. When he was about four, he went for his first swim in the river at C.K's farm and thought the silt was "frog slime". They then went inside and had sandwiches.
Trivia
He doesn't like glitter.
He dislikes School,homework and bathing
He loves ketchup
Apparently, he faints at the sight of blood, however, it was possible that he was just being dramatic and not really fainting.
He once said that he "liked spooky things, the spookier the better".
He is a pack rat and takes after his Dad
He has a never ending notebook that he draws his ideas in
He can be kind of sarcastic at times.
Gallery