Tad is LeapFrog's Character. He was voiced by Blake Marggraff (1999-2001), Nicole Rapp (Danny Walker sings for him and speaks his dialog briefly in 2001)) (2002-2003), Debi Derryberry (2002-2004), Nika Futterman (2005-2007), Jessica Straus (2008-2013) and is currently voiced by Kira Tozer.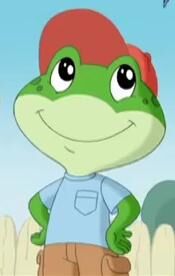 Species
Frog
Friends/Allies/Family
Enemies
Likes
ABC, Numbers, and Scout
Quote
"Oh Yeah!"
First appearance
Letter Factory (2003)
Let's Go to School (2009 with used new outfit and the different place)
Letter Factory Adventures: Letter Machine Rescue Team (2014 with new outfit and in Computer animation)
Last appearance
A Tad of Christmas Cheer (2007)
Scout and Friends: The Magnificent Museum of Opposite Words (2013, cameo)
Voice Actors
Blake Marggraff (1999-2001)
Nicole Rapp (Danny Walker sings for him and speaks his dialog briefly in 2001)) (2002-2003)
Debi Derryberry (2002-2004)
Nika Futterman (2005-2007)
Jessica Straus (2008-2013)
Kira Tozer (2014)
Cristina Hernández (Latin American Spanish)
Camille Donda (French)
Manuel Meli (Italian)
Aki Toyosaki (Japanese)
Gallery: