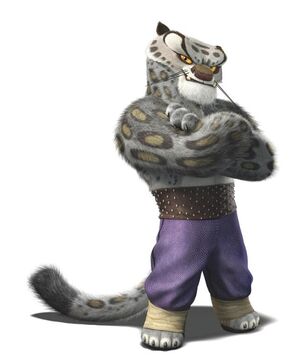 Tai Lung is the main antagonist in Kung Fu Panda.
Family
Enemies
Roles
Tai Lung played Pinky in Cat-A-Doodle
He is a fox
He is a tiger
Tai Lung played Captain Pete in 

Yogi, Quick Draw and Magilla: The Three Musketeers
He is the captain of the Musketeers
Tai Lung played General Grievous in Animation Star Wars
He is a Jedi-killing cyborg
He is Jafar's genie form
Tai Lung played Mr. Freeze in Bathound: The Animated Series and Bathound And Fox
He is a cold-themed villain
Tai Lung played Genie Jafar in Baltladdin
He is a genie
Tai Lung played Firelord Azulon in Avatar: The Last Airbending Animal
He is ruler of the Fire Nation
Tai Lung played Sheriff Terrorbull in Wild West: The Cowcats Of Meow Mesa
He is a bull
He is a lion
Tai Lung played Hades in Gumballcules
He is the devil and ruler of the Underworld
Tai Lung played Steele in Diegoto
He is an evil huskey
He is a sixth Lord
He is an Emperor
He is a prince
He is a pirate
Tai Lung played Withered Freddy in Five Nights at Bagheera's Series
He is a Withered Animatronic
He is a stag
Tai Lung Played Giant Red In

All Fox Go To Heaven
He is a black cat
He is an asassin
He is an He is a cruel, aggressive, treacherous, cunning, vindictive, hateful and megalomaniacal warlord who sought to amass a massive army of men and dragons by enslaving dragons with the Muddy Bewilderbeast
He is a sewer rat
He is a cave
He is an Evil Ant
Tail Lung played The Lead Farfel in Simba (Chowder)
He and Phango played Shere Khan in The Forest Book and The Forest Book 2 
He and Phango are two evil Tigers 
He is a Evil Tiger.
Tai Lung Plays Captain Gutt In

Afican Mammal Age: Continental Drift
he is a ape
Portrayals:
Gallery:
Trivia
His appearances in the Stephen Squirrelsky and Friends' Movie Spoof Travels are Aurorastasia where he, Mouseysqueaky, Wicked Queen, Teresa, and The Rowdyruff Boys try to catch Aurora, Phillip, Pacha, Nevins, Stephen, and his friends from traveling to Paris, but fail, then will hopefully appear in more spoof travels to catch Stephen and his friends.