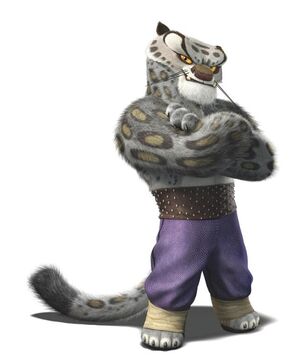 Tai Lung is the main antagonist in Kung Fu Panda.
Tai Lung played General Grievous in Animation Star Wars
He is a Jedi-killing cyborg
He is Jafar's genie form
Tai Lung played Mr. Freeze in Bathound: The Animated Series and Bathound And Fox
He is a cold-themed villain
Tai Lung played Genie Jafar in Baltladdin
He is a genie
Tai Lung played Firelord Azulon in Avatar: The Last Airbending Animal
He is ruler of the Fire Nation
Tai Lung played Sheriff Terrorbull in Wild West: The Cowcats Of Meow Mesa
He is a bull
He is a lion
Tai Lung played Hades in Gumballcules
He is the devil and ruler of the Underworld
Tai Lung played Steele in Diegoto
He is an evil huskey
He is a sixth Lord
He is an Emperor
He is a prince
He is a pirate
Tai Lung played Withered Freddy in Five Nights at Bagheera's Series
He is a Withered Animatronic
He is a stag
He is a black cat
He is an asassin
He is an He is a cruel, aggressive, treacherous, cunning, vindictive, hateful and megalomaniacal warlord who sought to amass a massive army of men and dragons by enslaving dragons with the Muddy Bewilderbeast
He is a sewer rat
He is a cave
He is an Evil Ant
Tail Lung played The Lead Farfel in Simba (Chowder)
He and Phango played Shere Khan in The Forest Book and The Forest Book 2 
He and Phango are two evil Tigers 
He is a Evil Tiger.
Portrayals:
Gallery:
Community content is available under
CC-BY-SA
unless otherwise noted.