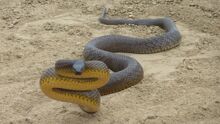 The taipan is a snake of the genus Oxyuranus in the elapid family. Taipans are large, fast-moving, highly venomous, and endemic to Australasia. There are currently three recognized species, one of which, the coastal taipan, has two subspecies. The taipan is also considered some of the most deadly known snakes.
Roles
Gallery
Books
Community content is available under
CC-BY-SA
unless otherwise noted.