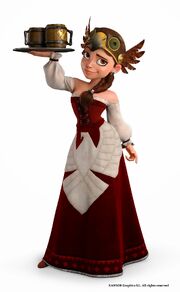 Talia is Justin's love interest from the 3D movie Justin and the Knights of Valour.
She is a wolf
Talia plays Eva in Vikings of Madagascar
He is a owl
She is a lion.
Portayal
In Garth and the Wolves of Valour Played Lilly
Gallery:
<gallery widths="185"> 6BE14AFD-2E33-44EC-AF5E-A984E4DBFFC8.jpeg 646EF75B-93F9-46D1-BDEF-E3E52F30EBFE.jpeg|Talia's heroic smile 0FD87C22-8B93-4642-ABD3-F64B6A0BF941.jpeg <gallery >
Community content is available under
CC-BY-SA
unless otherwise noted.