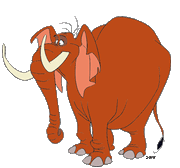 Tantor is an African forest elephant (Loxodonta cyclotis) from the 1999 Disney film Tarzan.
As Sulley With Terk as A Extra in Mortal Kombat Inc.
He Is A Blue Monster
He Is A Stork
He Is A Mighty Lion
As Hamm in the

Cartoon Story (Davidchannel's Version) Series
He is a Piggy Bank
He is a flying bison
He is a stag
As Boba in Charlie Barkin: When Nature Calls
He is a captive elephant
He is a Elephant
He is a doorknob
He is an Elephant
He is an Elephant
He is a Robot
As Blu In

Rio (with Elephants)
He is a macaw
He is a dwarf
He is a blue Triceratops
He is a stove.
He is a king
He is a camel
He is a big blue Express Engine
He is a rhino beetle
He is an apatosaurus
As Manny in

Animal Age series (Otto Gameplays13 version)
He is a mammoth and voiced by Ray Romano
Portrayals:
Gallery: