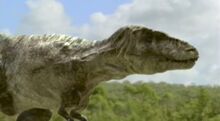 Tarbosaurus is a genus of tyrannosaurid theropod dinosaur that flourished in Asia about 70 million years ago, at the end of the Late Cretaceous Period. Fossils have been recovered in Mongolia, with more fragmentary remains found further afield in parts of China. Although many species have been named, modern paleontologists recognize only one, T. bataar, as valid. Some experts see this species as an Asian representative of the North American genus Tyrannosaurus; this would make the genus Tarbosaurus redundant. Tarbosaurus and Tyrannosaurus, if not synonymous, are considered to be at least closely related genera. Alioramus, also from Mongolia, is thought by some authorities to be the closest relative of Tarbosaurus.
Roles
Portrayals
Gallery
See Also
Community content is available under
CC-BY-SA
unless otherwise noted.