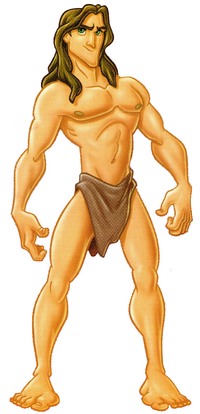 He is a character from "Tarzan".
Roles
He Played Bashful in Cecilia White and the Seven Men
Young Tarzan Played Mowgli in The Jungle Book (LionKingRulezAgain1 Style)
He will play Wreck-it Ralph in Wreck-it Tarzan.
He will play Aragorn in The Lord of the Rings trilogy (Animated Style)
He played 17-year old Andy in Cartoon Story 3.
He will play human Shrek in Ralph 2.
He will play Prince Adam in Beauty and the Demigod (Both 1991 and 2017 versions).
He will play The BFG in The BFWM (The Big Friendly Wild Man) (1989 style).
He will play Tarrant Hightopp in Anna in Wonderland (2010) and Anna Through the Looking Glass.
He will play the Grinch in How the Wild Man Stole Christmas (2000 version).
He played Koda in Brother Dog (Dragon Rockz Style)
He played Martian Manhunter in Justice League And Justice League Unlimited (PrinceBalto Human Style)
Portrayals
In Dimitrizan he is played by Dimitri
In Yellow Kirbyzan he is played by Yellow Kirby
In Rinzan he is played by Rintoo
In CJZan he is played by Little CJ
In Jacob Samrazan he is played by Jacob Samra
In Rockyzan (Broadwaygirl918 Style), he will be played by Rocky
In Gokuzan (Ohanas Style) he is played by Goku
Gallery:
Community content is available under
CC-BY-SA
unless otherwise noted.