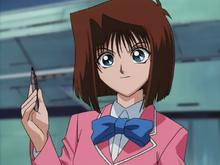 Téa Gardner, known as Anzu Mazaki in the Japanese versions, is a childhood friend of Yugi Muto. Téa does not usually play games with Yugi and his friends, but in the beginning of the anime, she could beat Joey Wheeler in Duel Monsters, and was later shown to be more than competent against others. Téa is also very good at dancing and wants to be a professional dancer when she grows up.
Voice Actors:
Amy Birnbaum (4Kids) - English
Alison Lester (Singapore) - English
Yumi Kakazu (1st Series) - Japanese
Aki Maeda (2nd Series) - Japanese
Maki Saito (2nd Series) - Japanese
Rubina Kuraoka - German
Debora Magnaghi - Italian
Julie Basecqz - French
María Fernanda Morales - Spanish
Annevig Schelde Ebbe - Danish
Tamara Zsigmond - Hungarian
She is a guest star.
She played Mina/Sailor Venus in Sailor Ariel
She is the 5th sailor scout.
She is a smart powerpuff girl.
Portrayals:
Gallery:
Community content is available under
CC-BY-SA
unless otherwise noted.