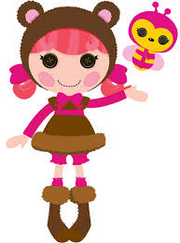 Teddy Honey Pots is a teddy bear... literally! She's often described as being warm and fuzzy and she loves to be hugged. When the winter seasons come, Teddy can often be found sleeping until springtime. Teddy also loves to eat honey...but she often eats too much and her tummy hurts! Her name is based off of Teddy Bear as well as her fondness of pots of honey.
About Teddy
Appearance
Teddy Honey Pots is a fair-skinned Lalaloopsy girl with basic black button eyes and pale pink cheeks. She has salmon pink hair worn in pigtails shaped like curled buns at the bottom of her head, held with magenta ribbons. Her bangs are curvy with few loose curls. She wears a furry brown hood on her head resembling a bear's ears.
She also wears a dark brown dress with a pink belt, matching a silk bow worn at her neck, along with her long sleeves. The bottom of her dress is very furry. She also wears dark reddish-pink bloomer-shorts, fuchsia socks, and tall brown boots with furry material at the top.
Pet
Teddy's pet is a magenta and yellow bumble bee with black eyes and a little nose. Its wings are a pastel pink color.
Home
Teddy's home is a humble treehouse. The treehouse has an upper balcony resting on the tallest bough and a small swing suspended from the lowest limb. The surrounding forest area is cheery and in high population of honey bees. Many barrels of overflowing honey are placed all around the grass and a few bee hives hang from the many trees.
Trivia
July 10th is Don't Step on a Bee Day / Teddy Bears' Picnic Day.
Her poster shows her with no bow on her dress and ruffles on the end of her sleeves.
Her tag on the front of the box has pink and yellow stripes instead of one color.
On the back of her box, on the button, the paragraph doesn't say "...was once a rag doll who magically came to life when her very last stitch was sewn."
She is one of the few Lalaloopsy to wear non-removable headwear. Kat Jungle Roar wears a leopard headband molded into her hair.
Teddy Honey Pots debuted alongside Mint E. Stripes, Haley Galaxy, and Confetti Carnivale.
In her prototype, she had darker skin, a different hairstyle, bows on her boots, and smaller ears.
Gallery
Cleaning up: Teddy Honey Pots/Gallery