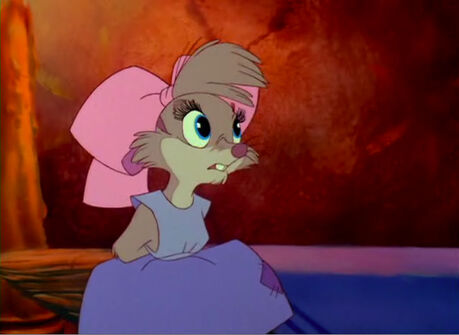 Teresa Brisby is one of Mrs. Brisby's eldest children from The Secret of NIMH.
She is a bunny
As Flora in Bernard: The Movie, Bernard (TV series), and Bernard: King of the Mice
She is the middle triplet
She is Mrs. Leary's middle child and daughter
She is a girl
she is a lioness
She is an extra
She is a squirrel
Portrayals:
Gallery:
Trivia
Her appearances in the Stephen Squirrelsky and Friends' Movie Spoof Travels are A Cartoon Character's Life Activity Center, Cloudy with a Chance of Meatballs (Justin Quintanilla's Style), Finding Alvin (J.B. Eagle's Style), Animated Tale (TheTure DisneyKing's Style), The Forest Book 2 (TrainBoy43's Style), Nikki's Adventures of Sing Along Songs Episode 10, Madagascar (FamousImagination50's Style), Sleeping Beauty (Justin Quintanilla's Style), Aurorastasia, Despicable Me (Justin Quintanilla's Style), We're Back!: A Jungle Animal's Story, Jimmynocchio, and The Wizard of Oz (Uranimated18's Style) and will even be in more movie spoof travels.