Terra from alpha and omega 2 is a Character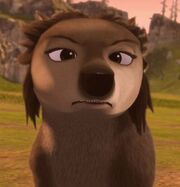 When she said no to her dad King that she dosen't want to lead the rest of the pack to Winston's home and claim it like "No, Father. Not this time." while she leave out of the rogue pack, She turns to good when she already said to runt "I'm sure you would taste very badly." when she already protect Runt from the third rogue wolf who fall off the cliff like somebody or someone like all of you seen it when you watch a rest of Alpha and Omega the second movie in your T.V., in your Computer, DVD, Blu-Ray or Digital HD in October last year in 2013.
Terra plays Shannon in Despicable Wolf 2
She is a Exersize Woman
Terra plays Yzma in A Wolf's New Groove
She is a emperor imvizer
Terra plays Ursula in The Little Mer-Wolf
She is a sea witch
Terra plays Ronno's mother in Stinkambi 2
She is a dow
She is a (Twi'lek) Pilot
Portayal
Alpha & Omega 2: A Roar-iday Adventure (Princebalto Style)- Played by
Ralefives
Husband-Nars
Son - Fleet
Daughter - Magril
Good friend-Runt
Community content is available under
CC-BY-SA
unless otherwise noted.