Rjvernel's Movie-Spoof of "The Amazing World of Gumball"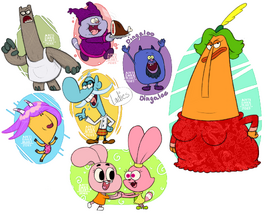 Cast
Gumball Watterson - Chowder
Darwin Watterson - Snap (ChalkZone)
Anais Watterson - Panini (Chowder)
Nicole Watterson - Kitty Katswell (T.U.F.F. Puppy)
Richard Watterson - Dudley Puppy (T.U.F.F. Puppy)
Principal Brown - Morton (Horton Hears a Who (2008))
Ms. Simian - Mahra (Jungle Cubs)
Tina Rex - Momma Dino (Ice Age 3: Dawn of the Dinosaurs)
Banana Joe - SpongeBob SquarePants
Hector - Gossamer (Looney Tunes)
Mr. Robinson - Squidward Tentacles (SpongeBob SquarePants)
Penny - Martha (Martha Speaks)
Community content is available under
CC-BY-SA
unless otherwise noted.