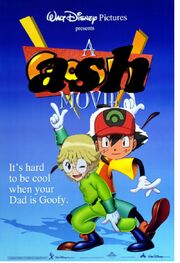 chris1702 spoof
Cast:
Max Goof - Tori (Tai Chi Chasers)
Goofy - Ash Ketchum (Pokemon)
PJ - Rai (Tai Chi Chasers)
Peter Pete - Giovanni (Pokemon)
Roxanne - Rini/Sailor Mini Moon (Sailor Moon)
Robert "Bobby" Zimmeruski - (Bakugan Battle Brawlers)
Stacy - Yachiru Kusajishi (Bleach)
Principal Mazur - George Darling (Peter Pan)
Bigfoot - Himself
Lester - ??? (???)
Lisa - Brittany Miller (Alvin and the Chipmunks)
Chad - (Alvin and The Chipmunks)
Buford, Beulah, and Mordechai - Max Taylor, Rex Owen and Zoe Drake (Dinosaur King)
Possum Park - Basil (The Great Mouse Detective)
Powerline - Brock (Pokemon)
Roxanne's Father - Darien/Tuxedo Mask (Sailor Moon)
Quotes:
Gallery:
Community content is available under
CC-BY-SA
unless otherwise noted.