The Goods Engine is a steam locomotive who makes several cameo appearances throughout the series. Its most notable appearance is in the episode High Tide, where the bridge crossing the canal collapses and the engine lands in Lord Stinker. It also sports the words "Dock Railway" on its sides.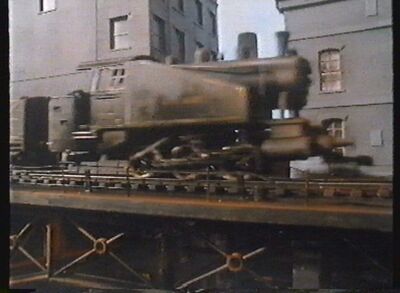 He is a hunter with a shotgun.
Behind the Scenes
The Goods Engine superficially resembles an 0-6-0 US Army tank engine, but is actually a model made from 'splicing' together various parts from other locomotives (such as the cab, which, upon close inspection, is a German design in origin), and scratch-building a few parts (most notably, the side tanks). Jeremy King said that the model was disliked by David Mitton, likely because of its low realism. There were rumours that the Goods Engine's model was used for Rosie in TUGS' sister series, Thomas the Tank Engine and Friends, but SIF have confirmed this to be false. Also with some speculating that his model was recycled after the series finale, and was passed on as a backdrop in an episode.
In the harbour of New York along the Hudson, there was a Dock Railway, which ran locomotives that bared very close resemblances to the Goods Engine.
The Goods Engine's status is now unknown due to the filming for the model series of Thomas the Tank Engine and Friends is now finished. And now with CGI-animation taking its place since 2008, The Goods Engine and several other backdrops have been nowhere to be seen.
Community content is available under
CC-BY-SA
unless otherwise noted.