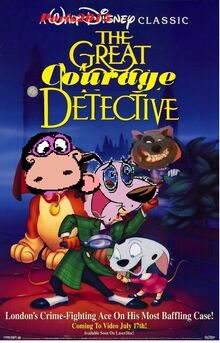 Paris2015's movie-spoof of The Great Mouse Detective (1986). It will appear on YouTube in the near future
Cast:
Basil - Courage (Courage the Cowardly Dog)
Dr. Dawson - Scooby Doo
Olivia Flaversham - Cadpig (101 Dalmatians)
Hiram Flaversham - Pongo (101 Dalmatians)
Mrs Judson - ???
Professor Ratigan - Carface (All Dogs Go to Heaven)
Fidget - Killer (All Dogs Go to heaven)
Bartholomew - Mooch (Lady and the Tramp 2: Scamp's Adventure)
Ratigan's Thug - Carface's Minors (All dogs go to heave)
Felicia - Dragon Maleficent (Sleeping Beauty)
Toby - Dino (The Flintstones)
Basil as a Crimanl - Katz (Courage)
Miss Kitty - Gadget Hackrewch
Miss Kitty's Sisters - Tanya and Giselle
Barmaid - ???
Queen Mousetoria - Dixie
Piano Mouse - Himself
Lady Mouse - Cindy Bear
Trivia:
Gallery:
Community content is available under
CC-BY-SA
unless otherwise noted.