Yakko Warner's spoof of "The Jungle Book (1967)"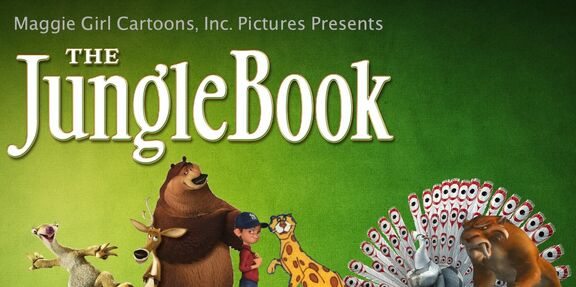 Cast
Mowgli - Yankee Irving (Everyone's Hero)
Baby Mowgli - Roshan (Ice Age)
Bagheera - Bollo (The Bollo Caper)
Baloo - Boog and Elliot (Open Season)
Baloo as Lady Monkey - Boog as female werewolf (Open Season: Scared Silly) and Elliot as woman (Open Season 2)
Kaa - Lord Shen (Kung Fu Panda 2)
Shere Khan - Soto (Ice Age)
King Louie - Sid (Ice Age)
Flunky Monkey - Scrat (Ice Age)
The Monkeys - Various "Ice Age" Animals
Buzzy - Basil (The Great Mouse Detective)
Flaps - Bernard (The Rescuers)
Ziggy - Jake (The Rescuers Down Under)
Dizzy - Timothy (Dumbo)
Shanti - Riley (Inside Out)
Colonel Hathi - Wooly (Cats Don't Dance)
Hathi Junior - Goliath II (Goliath II)
Winifred - Goliath II's Mother (Goliath II)
The Elephants - Various Elephants
Slob Elephant - Tantor (Tarzan; 1999)
Elephant Whispering to Winifred (aka with 'Dusty Muzzle') - Horton (Horton Hears a Who; 2008)
Elephant with Black Eye - Jerry Jumbeaux, Jr. (Zootopia)
Elephant with 'Silly Grin' - Elephant Abu (Aladdin; 1992)
Elephant with fly - Brer Elephant (The Adventures of Brer Rabbit; 2006)
Elephant with hair (Lieutenant) - Ned (Timon and Pumbaa)
Elephants crashing - Elephants crashing (Goliath II)
Buglar the Elephant - Burt (The Penguins of Madagascar; Show)
Akela - Winston (Alpha and Omega)
Rama - Humphrey (Alpha and Omega)
Raksha - Kate (Alpha and Omega)
The Wolves - Various Wolves (Alpha and Omega)
The Wolf Cubs - Humphrey and Kate's Children (Alpha and Omega)
Fly - ???
Bee - ???
Deer - Deer (The Sword in the Stone; 1963)
Community content is available under
CC-BY-SA
unless otherwise noted.