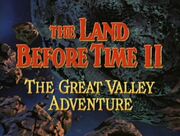 Mirai Forever2017's movie spoof of The Land Before Time II: The Great Valley Adventure
Cast
Littlefoot - George Shrinks
Cera - Rita (Go Hugo Go!)
Ducky - Skye (Paw Patrol)
Petrie - Percy (Thoms the Tank Engine)
Spike - El Diablo (Beverly Hills Chihuahua)
Chomper - Peng (Kung Fu Panda: Legends of Awesomeness)
Littlefoot's Grandparents - Harold Shrinks and Aunt Eunice
Cera's Father - Fox (The Animals of Farthing Wood)
Ducky and Spike's Mother - Lady (Lady and the Tramp)
Petrie's Mother - ???
Chomper's Parents - Kovu and Kiara (The Lion King 2: Simba's Pride)
Ozzy and Strut - Kago and Uto (Tarzan 2)
Pterosaur whom Ozzy and Trut try to steal eggs from - Braviary (Pokémon)
Maiasaura - ???
Gallery
Community content is available under
CC-BY-SA
unless otherwise noted.