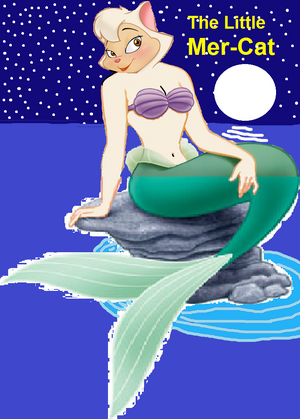 MonkeyMovieMaker's movie spoof of "The Little Mermaid". It arrived on YouTube around September 15, 2010.
Cast
Ariel - Sawyer (Cats Don't Dance)
Prince Eric - Danny (Cats Don't Dance)
Ursula - Sour Kangaroo (Horton Hears a Who! 2008)
Flounder - Fievel Mousekewitz (An Amarican Tail)
Campbell the Little Crocodile - Young Simba (The Lion King)
Sebastian - Mushu (Mulan)
King Triton - Thomas O'Malley (The Aristocats)
Ariel's Sisters Played By:

Aquata - Lady (Lady and the Tramp)
Andrina - Georgette (Oliver & Company)
Arista - Krystal (Star Fox)
Attina - Candy Kong (Donkey Kong)
Adella - Kiara (The Lion King 2)
Alana - Miss Bianca (The Rescuers)

Harold the Seahorse - Tuffy-Mouse (Tom and Jerry)
Scuttle - Puffin (The Swan Princess)
Flotsam & Jetsam - Glump & Mump (The Princess and the Goblin)
Grimsby - Owl (Winnie the Pooh)
Max - Toby (The Great Mouse Detective)
Chef Louis - Winnie the Pooh
Carlotta - Tillie Hippo (Cat's Don't Dance)
Sailors in "Fathoms Below" - Animal characters, Peppy Hare (Star Fox), and Tigger (Pooh)
Jig Dancing Sailors - Crows (Dumbo)
Sailors during Storm - Various Animals
The Washerwomen - Mrs. Judson (The Great Mouse Detective), Kala (Tarzan), and Bridget (An Amarican Tail)
Ursula as Vanessa - Toodles Galore (Tom and Jerry)
The Priest - Wooly the Mammoth (Cats Don't Dance)
Glut the Shark - Leopard Seal (The Pebble and the Penguin)
Gallery
Community content is available under
CC-BY-SA
unless otherwise noted.